Hydro Facial Machine
10 products
What Is A Hydra Facial?
You may curious that hydra facial machine is just use water to clean your face and do nothing else. But actually, hydra facial is the trendy treatment and become the first choice when people want to do a facial treatment or solve their facial concerns, such as dryness and signs of aging. Different from basic facial care, hydro facial uses serums and other ingredients to cleanse and moisturize the skin more effectively, making it a superior treatment method. Every 15 seconds, a hydrafcial treatment is in progress. This highly efficient facial cleansing and care treatment has gained much popularity in over 80 countries and America is one of the most popular country using it.
How Does Hydra Facial Work?
Some people say that a hydrafacial machine is the same as microdermabrasion, gently sanding your skin and removing the thicker. But it's not exactly microdermabrasion. A professional hydro facial machine uses an exfoliating tip paired with suction to remove dead skin cells from your face. After this process, serums and other ingredients will be infused into your skin, which will maximize the moisturizing and cleansing of your skin. Here are three steps of water hydrafacial to help you better understand the theory of hydro facial:
Step 1: Cleansing, Exfoliation and Peeling
A specialized Hydrafacial handle is used to exfoliate the outermost layer of dead skin cells. Then, a gentle acid peel is applied to the skin during this step to further exfoliate and promote skin renewal. Hydro peel systems will ensure the cleaning and exfoliating of your face.
Step 2: Extraction
The tip of the water facial machine will suction out impurities from the pores, such as blackheads, whiteheads, and excess sebum. Simultaneously, it delivers topical moisturizers.
Step 3: Hydration and Serum Infusion
Hydra facial cleanser will infuse the skin with a blend of serums rich in antioxidants, peptides, and hyaluronic acid. These serums will replenish and hydrate your skin and solve skin problems like fine lines, wrinkles, or hyperpigmentation.
The serums are delivered to the skin using the same handle that was used for cleansing and exfoliation. This ensures optimal absorption of the beneficial ingredients.
6 Benefits of Hydro Facial Machine
1. Skin Cleaning and Rejuvenation
As the basic function of hydro facial.machine, cleaning the skin is the first step in the hydrafacial process. Also, hydrafacial machines use a multi-step process to do cleansing and exfoliation. It can effectively remove dirt, oil, makeup, and dead skin cells from the surface of the skin, leaving it clean and refreshed.
2. Solve Multiple Skin Problems
Hydrafacial machines for estheticians can help you solve multiple skin problems like clogged pores, dull or uneven skin tone, fine lines and wrinkles, dehydrated skin and so on. Hydrotherapy facial machines are versatile and effective at solving multiple skin problems, making them become popular choice for individuals who seeking comprehensive skincare solutions.
3. Helpful for Anti-Aging
HydraFacial treatments can target fine lines and wrinkles by stimulating collagen production and delivering anti-aging serums. Also, the serums and other ingredients can rejuvenate your facial skin. This can result in a more youthful and radiant appearance.
4. No Downtime and Recovery
Like other beauty machines in Carol & Esthetician, a hydro facial is a non-invasive treatment. There is typically no downtime, and users can back to their daily working and living immediately after the treatment.
5. Suitable for Various Skin Types
Hydro exfoliator machines are suitable for a wide range of skin types, including sensitive skin.  Users can do hydra facial at home with confidence. The advantage, customization of the hydro infusion facial treatment allows it to be adjusted to individual skin needs.
6. Quick and Convenient
There is no doubt that the treatment of hydro dermabrasion facial machine is very fast. Only need 15-20mins for one session, which makes them convenient for those with busy schedules. Also, The hydro glow facial machine has a compact and lightweight design, making it easy to carry. It can be used at home or as a professional device in a beauty salon.
What Are Hydra Facial Side Effects?
Generally, hydra peel facial is considered a safe and low-risk skincare treatment. However, the system including like skin cleansing technology, water-based exfoliation, microdermabrasion systems and anti-aging technology, in this cosmetic procedure, there can be potential side effects and considerations to be aware of when using dermatology equipment. The potential side effects you should notice when using such as temporary redness, tingling or tightness, bruising or allergic reactions. But these phenomena rarely happen so you can feel relieved to use these facial spa machines.
How Much Does Hydra Facial Cost?
If you are using this facial rejuvenation equipment in SPA or beauty salon, the average cost can range from $150 to $200, depending on the specific circumstances or services being offered. But Carol & Esthetician, providing the best hydrafacial machine for sale, only for the price of just one or two sessions, you can enjoy hydra needle facial treatment at home. If you are running a SPA or beauty salon, it is your best choice to own these skin hydration machines.
How Many Treatments Can You See Results?
Hydra facial benefits a lot. According to our customers' feedback and skincare device reviews, 4-8 session 4-6 weeks apart is needed to see visible skin refinement and a radiant tone in this facial skin therapy. The things users should know about is that the treatment may vary depending on individual skin types and conditions. Also, hydrafacial customer service can give you the instruction to get better results.
Who Should Not Get A Hydra Facial Training And Session?
Many beauties asked us if they wanted to do hydra facial while pregnant. But we do not recommend you to use these skincare appliances when you have a baby. What's more, if you have active skin infections, sunburn, skin resurfacing recently, open wounds or lesions, please avoid using these beauty treatment tools for your skin and body safety.
One Last Thing About Hydro Facial And Hydro Facial Machine
Hydro machine and its treatment is a suitable choice and effective way to cope with facial problems. Professional skincare technology inside is suitable for all skin tones and requires no downtime. Also, the reasonable hydra facial machine price is favored by many people who love beauty. If you wonder about "hydra facial near me", we believe Carol & Esthetician can be your best partner with US stock that can deliver them to you in 2-3 days.
FAQ
Does using hydra dermabrasion facial equipment feel pain?
No, it should not feel any sense of pain. The treatment is gentle and comfortable.
Are hydro facial machines suitable for home use?
Of course, as a facial cleansing appliance, it is not only used in SPA or beauty salon, but also you can enjoy these skin revitalization machines at home. It is convenient for home use.
Do hydro facial treatments reduce the signs of aging?
While they may not provide the same level of results as more invasive procedures like surgical facelifts or laser resurfacing, hydro lifting facial treatments can contribute to reducing the signs of aging and promoting a more youthful appearance when used as part of a comprehensive skincare routine.
Can hydro facial machines help with acne-prone skin?
Yes, the skin rejuvenation technology in hydra facial machines can be highly beneficial for people with acne-prone skin.
Do I need to use special skincare products with hydro facial machines?
While you don't necessarily need to use special skincare products with hydro facial machine, using high-quality skincare products can complement and enhance the results of your hydra facial treatments.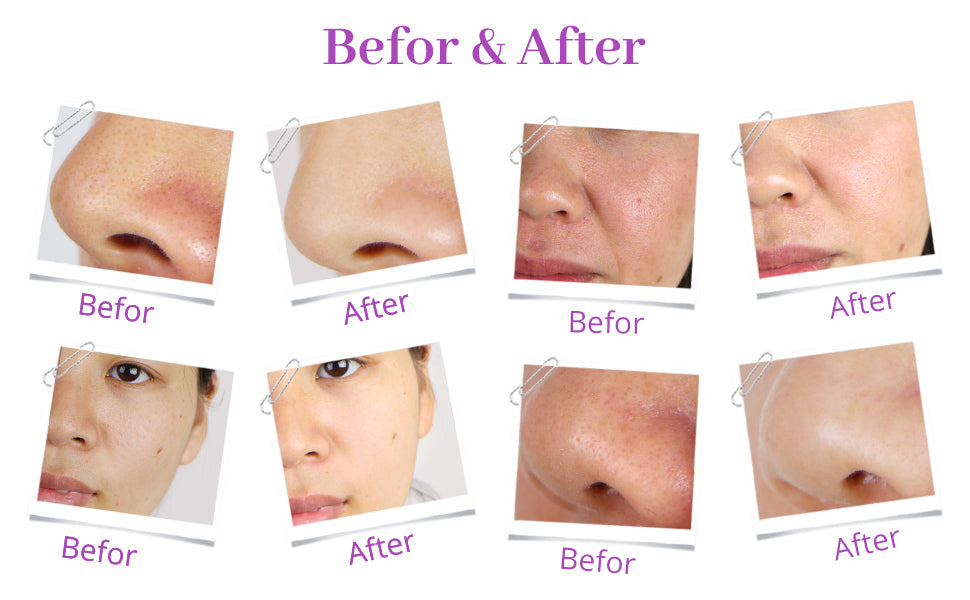 hydra facial before and after
You can eaily notice the different of before using hydra facial machine and the result