Cavitation Machine
35 products
Introduction of Ultrasonic Cavitation Machine
Ultrasonic cavitation makes use of low-frequency sound waves to create a cavitation vacuum to reduce excess and stubborn body fat. It is also called ultrasound cavitation, which is a non-invasive strategy for dealing with localized fat and cellulite. This treatment is widely used in beauty salons and hospitals. As an increasingly popular method of fat reduction and body contouring, ultrasonic cavitation machine is frequently used in the beauty industry.
How Does Ultrasonic Cavitation Machine Work?
It sounds like magic at Hogwarts. But it is not. By using an ultrasound cavitation machine,  ultrasonic waves can be produced from the handles that penetrate directly into the skin. This kind of low-frequency wave will enter the subcutaneous fat layer and destroy the fat cells. The fat cells will deposit into the lymphatic and urinary systems. Then they will change into glycerol and free fatty acids. The glycerol will be absorbed by the human body, while the fatty acids will be expelled. As our blog mentioned the theory of cavitation machine before, this is also called body cavitation machine liquefied fat. It is the theory of ultrasonic cavitation.
6 Benefits of Ultrasonic Cavitation Machine
1. Ultrasound Technology
Ultrasound cavitation machines utilize ultrasound waves to target and break down fat cells in the body. This non-invasive technology allows for localized fat reduction and body contouring without the need for surgery or anesthesia.
2. Instant effect on your body
After the ultrasound cavitation for weight loss, you can feel, touch and see the immediate results. It can reduce cellulite and liquefied fat.
3. Painless and safe
The whole process of the treatment is painless and safe. There are only slight tingling and heat sensations you can feel during the process.
4. Non-invasive and leaves no scars
It doesn't require any surgery which means the physical damage is minimal.
5. Selective Fat Cell Targeting
By an using ultrasonic cavitation machine, the whole treatment is quick and convenient. You can even do body sculpting at home!
6. Customizable Treatment Settings
Ultrasound cavitation machines offer adjustable settings to accommodate different body types and treatment areas. This customization allows for personalized treatment plans tailored to individual needs, optimizing the outcomes and ensuring a more targeted approach to fat reduction.
The Potential Drawbacks of Cavitation
Target small areas, not the whole body
Ultrasonic cavitation aims at the small scale of your body. If you want to reduce your whole body fat at once. You may try other ways to lose weight. Body cavitation focuses on adipose tissue reduction.
The effect on different people
Cosmetic device may not be so useful to those who have a lot of weight to lose. It will be more effective for body contouring.
Potential for minimal negative consequences
After the treatment, the symptoms like transitory redness and nausea you will feel. The areas of treatment may cause discomfort, bruising and swelling. But all of these will disappear in a few hours. The severity depends on the person and the cavitation machines. Making sure you follow the doctor's guidance and choosing professional cavitation machines.
Is Ultrasonic Cavitation Machine Safe?
After knowing the theory of ultrasonic cavitation, you may worry that this kind of effective treatment and machine will hurt your body. But fat cavitation machine is safe! It is a non-invasive surgery. You might feel light tingling and heat sensations. Although it might have potential side effects for different people, ultrasonic cavitation treatment is still a safe contouring method for all beauties. The side effects are rare. Under the guidance of doctors and professionals, you can also do ultrasonic cavitation at home. So a professional cavitation machine is a choice you should take into consideration. Also, the effectiveness of cavitation machine will amaze you. You can click here to know more about how cavitation machine can reduce.
How To Choose A Cavitation Machine
If you are looking a cavitation device, here are a compliete cavitation machine buying guide for you. There are some items you should know about when choosing aesthetic equipment:
Brand and reputation
When you choose a cavitation machine for home, it is really important to focus on the manufacturer's expertise. Choosing an experienced and professional supplier of cavitation machines will guarantee your body's health. Also, certification and reputation are factors you should consider. The supplier who has professional certification and a blemish-free reputation is trustworthy. As a professional in the cavitation machine industry with decades of experiences, Carol & Esthetician provide you professional fat cavitation machine. We have our own cavitation technology, which will give you a more professional using experience.
Usable functions
Before ordering your own cavitation gear, there are more considerations you should make. For example, radio frequency technology and multipurpose handles are common selections for  buyers. Will you choose cavitation machines with 30k or even 40k power? There are many different handles for different parts of the body. Will you choose the machine with more handles and functions or less? It depends on what you really need.
Price
Of course, the price is the main and unavoidable issue when buying your cosmetic device. Compared with the treatment in a hospital or beauty salon, buying your own cavitation machine is an ideal way to save your money. The average cost is around $250-$350 per treatment. For up to 12 sessions, the total cost will jump to $3000, which is a really big spend. But the cost of buying your own cavitation gear will be much lower. Taking our product 6 in 2 cavitation machine LY-54K2S as an example, it only costs the price of a single treatment you can enjoy the same treatment at home with multiple functions.
Specifications and models
There are some tips you should also know. If you decide to buy a cavitation machine, the specification like the weight, screen-to-body ratio and sound, etc. These are all about your experience when using it. We believe our product, our product LY-54K2S will give you a fabulous cavitation machine experience with its lightweight, large screen and low noise.
Service and assurance
You will never expect your supplier to run away when you need guidance or any other support. When considering the product, make sure they will provide you with the professional instruction service and warranty options. Our product offers a detailed instruction manual so that you can use the probe properly. For the warranty, most of the brands will offer you when you buy their product.
Are you looking for a professional ultrasound cavitation machine? Carol & Esthetician offers a variety of cavitation machines for sale, including different functions and specifications. Now advanced technology is available on our newest 6 In 1 Cavitation Machine, LY-54K2S. It is a professional-grade product that you should not miss.
Who Is Not Suitable For Ultrasonic Cavitation ?
Before the ultrasonic cavitation treatment, you should consult your doctor before you use your cavitation machine. Please do not take the treatment if you:
Are menstruating, pregnant and lactating
Are suffering from severe disease or undergoing chemotherapy like diabetes, heart disease, history of scarring, hyperthyroidism, HIV/AIDS,
Are taking prednisone and other steroid medications.
Have recently had surgery or are recovering from surgery.
Have malignant tumors, hemophilia or severe bleeding.
Have skin diseases and infectious diseases.
Are drunk within 12 hours, full within half an hour, fasting, thirsty, and overworked.
In What Areas of The Body Does Ultrasonic Cavitation Work Best?
Ultrasonic cavitation machines can be used for the whole body or local parts, especially for areas of fat buildup like the abdomen, upper arms, thighs, hips, and flanks. Please avoid body parts like the head and other bony parts.
According to our users' feedback, after doing the cavitation treatment, the average  circumference of their waists reduced by around 2 to 4 centimeters
What Will You Do During The Cavitation Treatment?
If you're ready to take your first ultrasonic cavitation treatment, continue reading to learn everything you need to know to prepare.
Before the treatment
No matter if you undergo your ultrasonic cavitation at home or in the hospital, the first thing you need to do is negotiate your body condition: which part you want to treat, how many times you need it, what your expectations are and others. Having a consultation with a doctor or other professional before your treatment will be a better option.
During the treatment
Please follow the instructions when you undergo the treatment. If you are in a hospital or beauty salon, you will put on a paper gown for a better operation. If you do it at home, that will be more convenient. They will smear the cavitation gel on your body part and then use the ultrasonic handle on the cavitation machine over the treatment area to start the massage for you.
During the operation, feeling the heat on the treated area and hearing the buzzing sound is very common. The treatment lasts about 30 to 50 minutes.
After the treatment
When you finish your treatment, the first thing you need to do is stay hydrated. The fat cells will accumulate in the lymphatic and urinary systems, so drinking water is necessary and helpful for metabolism. Drink at least 8 glasses or 3-4 liters of water every day. That will help break down the fat cells. Please keep your healthy diet and avoid alcohol and nicotine which will be helpful for your recovery.
What Do You Need To Do When You Receive Your Own Cavitation Machine?
When you receive your cosmetic device, the first thing you need to do is check if the machine is broken or not. Then turn on the machine and test whether the functions are normal. If there are some tools missing or any non-human damage, you can send message to the supplier for after-sale service. What's more, customer service will offer guidance and instructions so that you can use the ultrasound fat cavitation machine at home.
Why Trust Carol & Esthetician?
Thanks to many years of experience working in the cavitation machine sector, Carol & Esthetician offers you a professional-grade fat cavitation machine and specialized guidance. Because we developed our own cavitation technique, the experience you get using our product will be more professional. Also, we have our own research department and global logistics department to ensure your body sculpting, is safe and reliable. Carol & Esthetician has been at the forefront of the beauty industry. We believe we can be your trustworthy partner.
How to Use Cavitation Machine?
Cleaning Your Treatment Area
The first thing you need to do is keep your treatment area clean. Any dirt, oil, or makeup on the skin will affect the effectiveness after using cavitation machine.
Applying Cavitation Gel
Apply ultrasound gel to your treatment area. The gel will help to transmit the ultrasound waves into the skin and protect the skin from irritation.
Turn on the machine and adjust the cavitation level
Set the machine to a suitable level of frequency.
Start the treatmen
While in the cavitation treatment, you can move the cavitation handle slowly in a circular motion over the area. Please do not move too fast or it won't work well.
Treat each area for 5-10 minutes
According to your session, each area can stand for 5-10 minutes.
Wash off the gel
After treatment, you can use tissue to wipe off or wash off the gel.
Using cavitation machine is really easy. If you are the first time using it, please consult providers or watch the video below. Here we provide you with professional beauty machine installations and operations. Please subscribe our YouTube if you are interested.
What Gel to Use with Cavitation Machine?
To protect your skin from getting affected by cavitation handle, cavitation gel is recommended for you. It can be the protective layer and also the transmission medium that can avoid contact with the handle directly and also transmit the ultrasonic waves into your body. If you use high frequency or level of the cavitation, it may cause you to feel burning or uncomfortable when using. This water-based gel is basically designed for cavitation treatment. It is the must-carry item when getting cavitation treatment.
The Treating Body Areas of Cavitation Machine
Cavitation machines can be used on a variety of body areas, including:
Abdomen: Reduce belly fat, love handles, and muffin tops
Thighs: Get rid of hidden thigh fat
Hips: Create a more hourglass figure
Arms: Receive slimmer arms
Back: Improve the appearance of back rolls and love handles.
The Cost of Cavitation Machine
The cost of cavitation depends on doing the treatment in a spa/beauty salon or buying your own cavitation machine. Also if you want to buy one, there are home-use cavitation machines and professional cavitation machines for spa and beauty salons. These two kinds of cavitation machines are quite different in their cost.
If you think " I just want to do cavitation treatments near me", the price depends on the local spa/beauty salon. $250 and $350 per session is the average price according to the research we have done. For 8 sessions, you will cost $2000 to $2,800. That is a huge cost.
But if you are looking to an ultrasonic cavitation machine for sale, Carol & Esthetician might be the greatest option for you. We provide home use cavitation machines and professional cavitation machines for individuals, new start spa owners and spa/beauty salon managers.
The price of a cavitation machine for home is around $90-$500, including single handle cavitation machine. The price of a professional cavitation machine is around $500-$2000, including 3 in 1 cavitation machine, 5 in 1 cavitation machine, 9 in 1 cavitation machine, 10 in 1 cavitation machine and vertical medal cavitation machine. They are more professional with more functions. Most of them are also suitable for home use.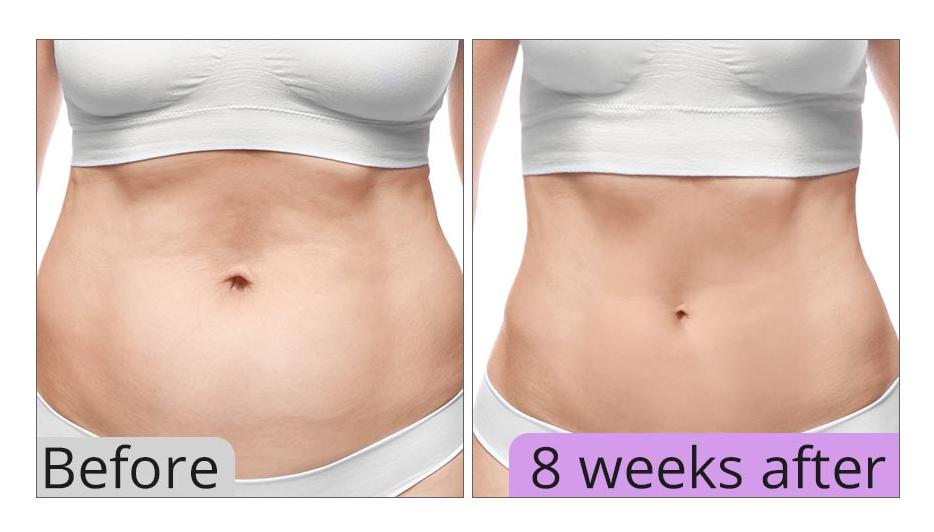 Ultrasonic Cavitation Before and After
You can eaily notice the different of before using cavitation machine and the result
Each treatment lasts about 30 to 50 minutes. We recommend doing it every 72 hours to allow enough time to completely remove fat from the body.Although you can have up to 12 sessions, most customers will do anything between 8 and 12 times before they can achieve the desired result.
About ultrasound cavitation risks, like any aesthetic treatment, there can be potential side effects, although cavitation machines are typically minimal and temporary. You may have mild discomfort,bruising, redness and swelling. Please make sure that receive immediately advice or treatment from doctors or othet professional esthetician.
According to our clients, if you have the appointment of cavitation treatment in SPA or beauty salon, the cost might be up to over $1000.So in that case, an ultrasonic cavitation machine will be your best option to reduce stubborn fat and get cavitation treatment session in your home. Only hundreds dollars, you can enjoy the high-performance and advanced technology.
1. Hydration: Drink an adequate amount of water to help flush out released fat and toxins from the body.
2. Healthy Diet: Maintain a balanced and nutritious diet to support the body's healing and fat elimination process.
3. Exercise: Engage in regular physical activity to promote lymphatic drainage and enhance the metabolism of released fat.
4. Avoid Alcohol and Caffeine: Limit the consumption of alcohol and caffeine as they can dehydrate the body and hinder the detoxification process.
5. Follow Provider Instructions: Follow any specific post-treatment instructions provided by your healthcare professional or aesthetician.